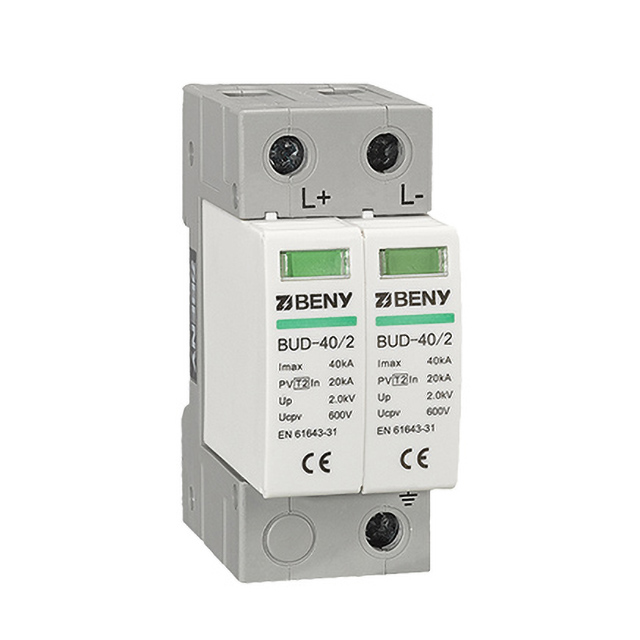 DC SPD Type2 up to 600V - BUD40-2
Download Pdf

+86-577-57177008

benyi@zjbeny.com

+86-577-57177007

timwu9111
Type 2 DC surge protection device up to 1000V
Solar DC SPD protects the solar equipments like solar panels and solar inverter from surges damage or overvoltage.
Improve the PV system safety for a longer PV system life.
PV standard EN 50539 and IEC 61643
The DC SPD is developed according to PV standard EN 50539-11 and new standard IEC 61643-31:
Low-voltage surge protective devices-Part 31: Requirements and tests methods for SPDs for photovoltaic applications.
ZJBENY is the first company in China tests the SPD at the PV standard.
Recommend by top solar inverter companies.
(超链接https://www.solaredge.com/sites/default/files/lightning_surge_protection.pdf )
Plug-in MOV modules
The surge protection device is consisting of a base part and 3 plug-in high energy MOV protection modules.
Remote signaling contact for monitoring device is for options.
With thermal disconnect mechanical inside for fault indication by red indicator flag.
* RoHS material
* 600V 1000V Type 2 DC SPD for solar PV application
* According to EN 50539-11, IEC 61643-31
* Thermal disconnect inside for fault indication
* 5 years warranty
| | |
| --- | --- |
| Model | BUD-40/2 |
| Moulds | 2 |
| SPD according to EN 50539-11 | Type 2 |
| | 600V |
| | 40KA |
| Nominal discharge current(8/20 µs) [(DC+/DC-) --> PE] (In ) | 20KA |
| | ≤ 3.8KV |
| Response Time (tA ) | ≤ 25 ns |
| Operating state / fault indication | Green/Red |
| Remote Signalling Contact (optional) | Changeover contact |
| For mounting on | 35mm DIN rails |
| Degree of protection | IP20 |
| Certificate | TUV |
| | |
| --- | --- |
| Model | BUD-40/3 |
| Moulds | 3 |
| SPD according to EN 50539-11 | Type 2 |
| Open Voltage Uoc Max | 1000V |
| Max. discharge current (8/20 µs) [(DC+/DC-) --> PE] (Imax ) | 40KA |
| Nominal discharge current(8/20 µs) [(DC+/DC-) --> PE] (In ) | 20KA |
| Voltage protection level Up | ≤ 3.8KV |
| Response Time (tA ) | ≤ 25 ns |
| Operating state / fault indication | Green/Red |
| Remote Signalling Contact (optional) | Changeover contact |
| For mounting on | 35mm DIN rails |
| Degree of protection | IP20 |
| Certificate | TUV / UL |